Host Cara King, DO, MS, gynecologic surgeon from the Cleveland Clinic, focuses on surgical and medical education, featuring interviews providing expert pearls, patient perspective, and practice-changing discussion. This serial podcast is created in collaboration with the Society of Gynecologic Surgeons. The information is provided for informational and educational purposes only.
Episodes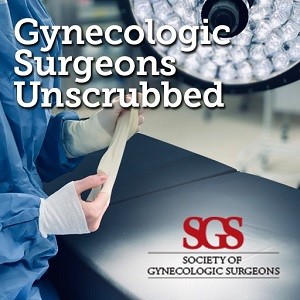 Thursday Dec 23, 2021
Thursday Dec 23, 2021
Welcome to the second part of this two-part episode; Dr. Cara King speaks with Dr. Matthew Barker, a Board Certified in Obstetrics & Gynecology and Female Pelvic Medicine & Reconstructive Surgery. He is the Director of Female Pelvic Medicine and Reconstructive Surgery at Avera Health. For 12 years at the University of South Dakota, Matthew has been a Professor of Urogynecology and Reconstructive Pelvic Surgery in the Departments of Obstetrics & Gynecology, Internal Medicine, and Neurosciences. 
In this episode, Matthew opens up on his journey into private medical practice in South Dakota, how he ended up having an idea for a full APP course, and how he engages his team in creating a meaningful culture at work.
Tune in!
During this episode, you will learn about;
[01:55] How the APP course came into being and its mission
[06:47] Allowing APPs to work in your clinic is the starting point of medical magic 
[08:16] Available resources you can use to measure the level of your APPs mastery
[10:36] The noble and incomparable roles of medical practitioners to the society
[12:27] Matt's Piano lessons and his hobbies
[18:34] Ending show
Connect With Dr. Matthew Barker 
Website: https://www.avera.org/
Twitter: https://twitter.com/MA_BARKER_MD
LinkedIn: https://www.linkedin.com/in/matthew-a-barker-m-d-f-a-c-o-g-313971/