Host Cara King, DO, MS, gynecologic surgeon from the Cleveland Clinic, focuses on surgical and medical education, featuring interviews providing expert pearls, patient perspective, and practice-changing discussion. This serial podcast is created in collaboration with the Society of Gynecologic Surgeons. The information is provided for informational and educational purposes only.
Episodes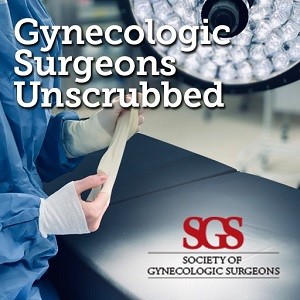 Friday Dec 17, 2021
Friday Dec 17, 2021
The world of healthcare is evolving, and it is important to keep up with the changes in the industry. Advanced Practice Providers (APPs) play a big role in this evolution.
Welcome to the first part of this two-part episode; Dr. Cara King speaks with Dr. Matthew Barker, a Board Certified in Obstetrics & Gynecology and Female Pelvic Medicine & Reconstructive Surgery. He is the Director of Female Pelvic Medicine and Reconstructive Surgery at Avera Health. For 12 years at the University of South Dakota, Matthew has been a Professor of Urogynecology and Reconstructive Pelvic Surgery in the Departments of Obstetrics & Gynecology, Internal Medicine, and Neurosciences. 
In this episode, Matthew opens up on how he incorporates Advanced Practice Providers (APPs) into his clinic as well as into his operating room, how his mother inspired his advocacy for women's wellness, and the importance of connecting with our patients.
Tune in!
During this episode, you will learn about;
[01:30] Meet our today's guest, Dr. Matthew Barker
[04:22] How many APPs, how he efficiently trains and integrates them 
[05:38] How he transitioned APPs from clinics to the operating room
[07:21] The process of training APPs for surgery procedures 
[09:47] Why do you need an APP for your healthcare organization's success?
[10:56] How Matt manages the operations of APPs when in the operating room 
[12:28] Billing and reimbursement tips for APPs
[16:08] The importance of connecting with our patients
[20:20] How Matt started living in South Dakota
[21:55] Medical practice vs. furthering his education after graduation
[25:36] It's okay to be nervous in the operating room
[27:12] First time experiences and anxiety into medical practice
[29:37] Preparation tips before doing surgery or operating room
[32:56] Ending Show
Connect With Dr. Matthew Barker 
Website: https://www.avera.org/
Twitter: https://twitter.com/MA_BARKER_MD
LinkedIn: https://www.linkedin.com/in/matthew-a-barker-m-d-f-a-c-o-g-313971/